Revolutionizing Firefighting with Autonomous Systems
Our purpose is to improve fire safety and prevent loss of life and property through the development of advanced, rapidly-acting Autonomous Robotic Fire Suppression (ARFS) technology.
We are leading the industry in the advancement of robotic nozzle technologies for a wide range of industries and applications. Unifire's robotic nozzles are for professionals who seek unmatched performance, cutting-edge control capabilities, and Swedish design and quality built to last and last in the harshest possible conditions.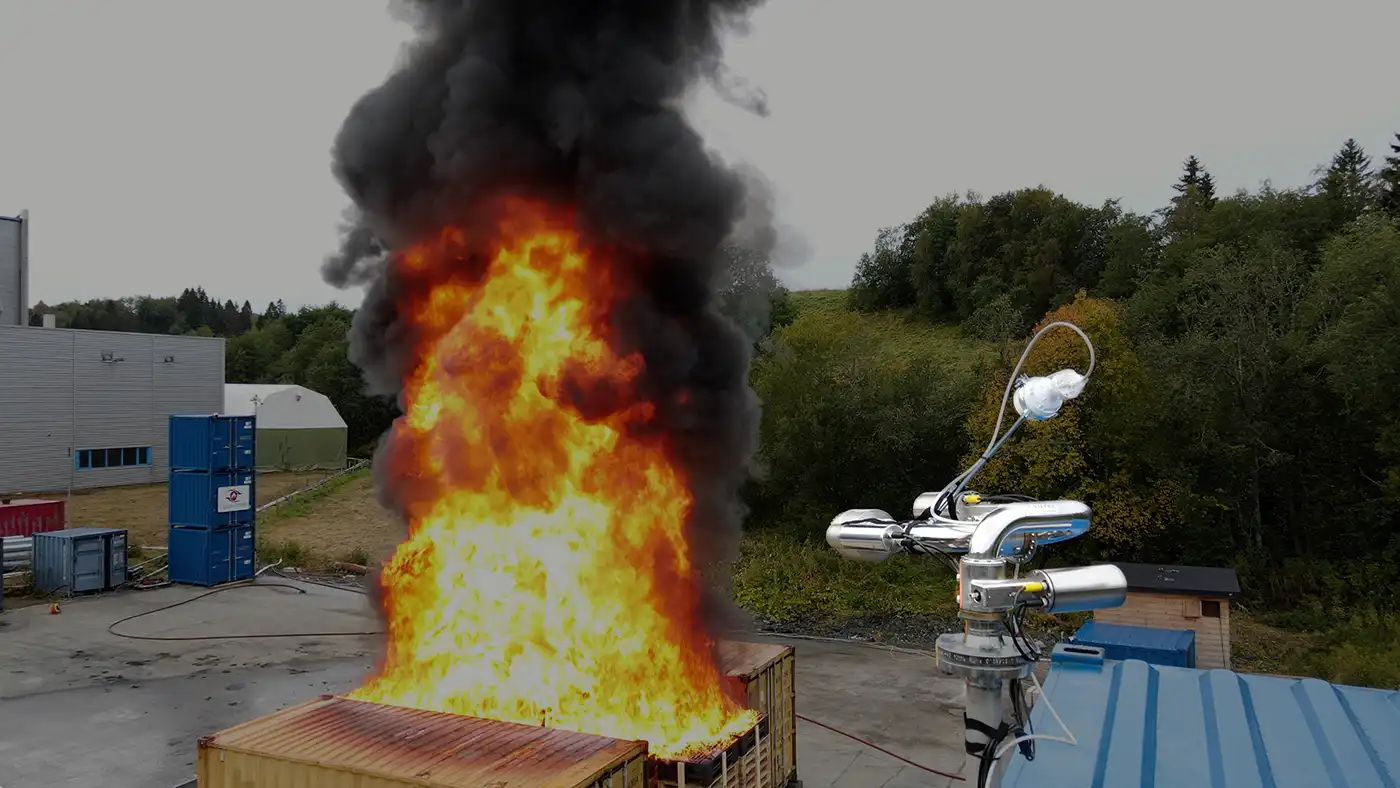 Unifire is the World Leader in Autonomous Robotic Fire Suppression Systems Applications
Waste & Recycling autonomous fire detection and suppression with pinpoint accuracy and auto shut off.

FlameRanger is the world's most advanced autonomous robotic fire suppression system, using AI to suppress fires in seconds.

Remote control from anywhere in the world by computer, joystick, mobile phone or wireless joystick.
Technologies
Technology

Software

At Unifire we write our own software on our own in-house designed electronics. Why? Superior capabilities, features, performance and user experience.

Technology

Robots

Unifire's robots are of unparalleled quality and performance and feature cutting-edge control capabilities, including fully autonomous functionality.

Technology

Detection

Our autonomous FlameRanger systems are offered with a wide variety of cutting edge 3rd party fire detection technologies. We are experts in combined detection and suppression systems for all types of risks.
News
The rapid pace of improved technology is bringing dramatic changes in products across nearly all industries. It should come as no surprise, then, that the nozzle industry is beginning to see a new generation of robotic nozzles, which are now at an unprecedented level of sophistication. Since 2014, the term "robotic nozzles" began emerging to…

Unifire's FlameRanger system combines world-class fire detection technologies with our advanced robotic nozzles (aka fire monitors). The system detects & suppresses fire in seconds, operating 24/7/365. Fully Autonomous Function Any fire that breaks out is detected almost instantaneously, and the fire's position is determined. In seconds, FlameRanger's sophisticated computing and software technology open the valve and intelligently…

Source: https://cordis.europa.eu/article/id/421785-how-a-fully-autonomous-system-can-help-improve-fire-safety-on-cargo-ships An EU-funded initiative has developed a robotic solution for fire detection and suppression to protect open weather decks on roll-on/roll-off (ro-ro) ships. The fires on ro-ro ships that carry wheeled cargo like lorries and cars have been in the spotlight in recent years. The 2019 Annual Report of The Nordic Association of Marine…
Ready to talk?
Contact Unifire to learn how we can prevent you, your loved ones and your property from experiencing disaster.